NTOBEKO GRADUATES TODAY (15 April 2016)
Congratulations to Ntobeko as he graduates (B.Com) today!

In his words: "Yes I'll be graduating today!! so I'm grateful for having trust in me all these years that one day I will make it!!"

We are very proud of him and wish him all the best for Honours this year.
43 Stationery Packs donated to Vukukhanye Educare Centre - March 2016
Insert text here...
Valentine's Day Tea for Mhlenge Society for the Aged - February 2016
Suncoast staff partnered with Vukukhanye to treat the clients of Mhlenge Society for the Aged to a special Valentine's Tea.
Bursars receiving uniforms for 2016
Vukukhanye, in partnership with Suncoast, is supporting12 school children and 6 tertiary students with long-term bursaries. The picture shows the school bursars after uniform shopping in December 2015. The bursars will be supported with uniforms, stationery and fees to the completeion of tertiary study.
Vukukhanye educare Centre 2015 Christmas Party, thanks to 'Fins & Flippers' Swimming School
Key Foundation - 2015 support of the Vukukhanye Educare Centre
Instant Lawn for Vukukhanye Educare Centre
Vukukhaye is very grateful to Countryline Horticulture for sponsoring instant lawn and topsoil for the Vukukhanye educare Centre
Castleburn, August 2013
The children were treated to a weekend in the Drakensberg from the 2nd to 4th of August. They had an amazing time - walks, boating, put-put, fire (in the fireplace), wildlife, games... and a lot of fun together!
Women's Day treat for Gogos
Suncoast blessed gogos from Chesterville to breakfast at the Suncoast Hotel and Towers on the 7th of August. They were thoroughly spoiled and waited on. Thanks Suncoast for honouring these special ladies and making their women's day so memorable.
Animal Farm Fun! Year-end outing for Vukukhanye Educare Centre
The children at Vukukhanye Educare Centre were treated to a morning at the Animal Farmyard in Botha's Hil; thanks to Sandeep and team. It was an amazing experience for the children and teachers - milking cows, feeding the sheep, goats and other farm animals, tractor rides and being treated to lunch and hampers for the children and their parents/caregivers. What a lovely way to end the year.
FMI Christmas Picnic!
FMI treated the children at Vukukhanye's Foster Home in Westville to a morning of fun, treasure hunts, lunch and gifts from Father Christmas at the Durban Botanic Gardens. A very big thank you to FMI for a wonderful day, and for your contribution to the children's lives.
Mandela Day 2012 - Suncoast at Mazenod Preschool
Suncoast staff and Vukukhanye joined Mazenod Preschool in Chesterville on the morning of Wednesday 18 July 2012 to celebrate Madiba's 94th birthday. They celebrated with song and a big cake, and marked the day by painting hand-prints of the children on one of the playground walls. The children were also all treated to lunch provided by Suncoast.
Link to video: http://
m.youtube.com/?reload=2&rdm=m74hr95rl#/?client=mv-rim
Madndela Day 2012 - Network Configurations provide new school shoes
Netowork Configrations provided 190 pairs of brand new school shoes to children at uKukhanya Kwelanga Junior Primary School in Chesterville.
INVESTEC - Classroom Upgrade
Investec staff spent Saturday 14 May preparing and painting a room at the Zamokuhle Preschool in Chesterville. This will enable the room to be used as a classroom. Thank you very much to Investec for their support, as well as Paint and Abrasives and Pearsons Paint for the donation of supplies.
SUNCOAST CUP Visit (11 May 2011)
SUNCOAST staff and Umzingi Contractors transported a jungle gym donated by a Westville resident to the Bamba Izandla Preschool in Chesterville; where the school's 40 children previously had no playground equipment.
Suncoast CUP Visit (9 February 2011)
On the 9th of February Suncoast Staff & maintenance Team got to work preparing a 12m park-home donated by Container Conversion, to be used as a 1-Stop Centre in Chesterville - painting and the connection of water, electricity and sewage mains.
See more info & photographs in the "Galleries & Videos" section...
SOUP KITCHEN (for Chesterville projects)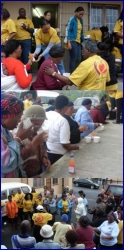 Suncoast Staff provided soup and bread to clients of the following 3 organisations in Chesterville on Wednesday 9 July: The Chesterville Disabled People's Support Group, Muthande Society for the Aged and Chesterville Satellite Hospice.
POEM ON CHILD ABUSE
Please read the poem below, written by social work student Zinhle Dlamini and performed at the recent Nelson Mandela Children's Fund "Champion for Children" worskhop in Durban.
Child Abuse (a poem by Zinhle Dlamini)
HOME BUILD IN CATO MANOR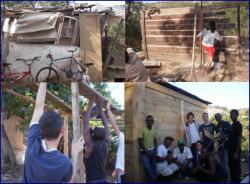 Towards the end of May 2010. The Olive Leaf Foundation included Vukukhanye volunteers in the constrsuction of a new home for a family in need in Cato Manor. The team demolished the families make-shift home which was falling apart and then costructed a solid structure, which will be a lot more conducive to normal family life.
SUNCOAST VISIT DISABLED & AGED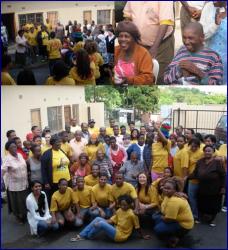 As part of their monthly visits to community projects in Chesterville, Suncoast Staff visited members of Muthande Society for the Aged and the Chesterville Disabled Support Group on the 12th of May.The staff spent time learning about the two organisations, getting to know the staff and members, and had a lot of fun singing and dancing together. The Suncoast team also delivered clothing and other donations collected by Suncoast staff.
Food Parcels for Chesterville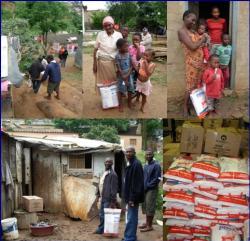 Street Committee Representatives, the Chesterville Residents Association and Vukukhanye distributed 30 food parcels to needy families in Chesterville on the 30th of November. The food parcels were very kindly donated by East Coast Radio Toy Story via the Westville Rotary Club. The food parcels consist of a 20kg box of non-perishable food and 2x10kg maize meal. 35 more parcels were distributed on the 5th of December. Thanks to Laser Junction, Capilano and Door Rescue for their assistance in transporting the food.
Toys for Chesterville Preschools
Thanks to generous donations of new toys through East Coast Radio Toy Story and the Westville Rotary Club, this year's Christmas will be a little more special for the children at 7 of the preschools in Chesterville!
Over 400 new toys were distrubuted to the following preschools: Zamokuhle, Bamba Izandla, Siceluthando, Ekuthuleni, Mazenod, St. Barnabas and Nobantwana.
STAND UP AGAINST POVERTY CAMPAIGN (16 October 2009)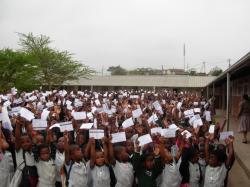 Sport For All, in support of the Stand Up Agaisnt Poverty Campaign, (www.standagainstpoverty.org) is participating in the global initiative running 16-18 October. The Campaign is a worldwide call to show support to end poverty and echieve and exceed the 8 Millennium Development Goals. In Africa, Stand Up provides an opportunity for citizens to show solidarity with millions of poor and excluded groups by demanding that governments become more accountable by improving their governance practices and implementing pro-poor policies.
Sport For All Chesterville played its part by distributing information and presenting to 1000 learners at Insimbini Primary School in Chesterville, at their school assembly on the morning of 16 October. The 8 Millenium Development Goals were briefly explained and the children stood up to demonstrate their support - see photo to right.
Thank you to Insimbini for supporting the Campaign!
WHEELCHAIR DISTRIBUTION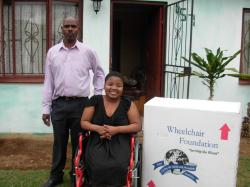 The Westville Rotary Club, in partnership with The Wheelchair Foundation, donated 3 wheelchairs for distrubution to disabled in Chesterville. Vukukhanye and the Chesterville Residents Association, in partnership with The Highway Hospice, Chesterville Disabled People's Support Group and Chesterville Street Committees, have identified 3 recipients. The attached photo shows one of the recipients with the Street Committee Chairman from her area. Thank you to Rotary & The Wheelchair Foundation!
BURSARY ANNOUNCEMENT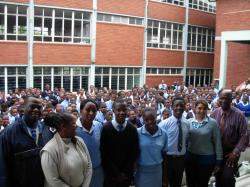 The two Grade 12 and two Grade 8 bursary recipients from Chesterville Secondary School were announced at a special assembly on Friday 9 October.
CHASING TALES - Treat for Chesterville Children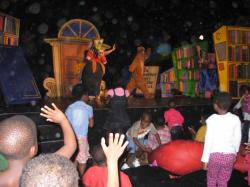 SUNCOAST recently hosted a special performance of the "Chasing Tales" children's show. Over 100 children from Chesterville and the Westville Foster Home attended, along with many others form other organsations in the Durban area. The children were each given a meal and were captivated by the action from start to finish! Thank you to SUNCOAST!
NEW FENCE FOR ZAMOKUHLE

As part of the current upgrade and resourcing project for Zamokuhle Preschool, SUNCOAST sponsored the installation of a new fence for the school.
PRESTIGE CLEANING SERVICES - BURSARY & PRESCHOOL SPONSORSHIP

Prestige Cleaning Services have made a generous contribution of R80,000 towards community development projects in Chesterville!
The funds have been allocated to the Tertiary education bursary project, as well as the upgrading and resourcing of the Zamokuhle Preschool.
Thank you very much.
CHESTERVILLE PRESCHOOL TEACHER TRAINING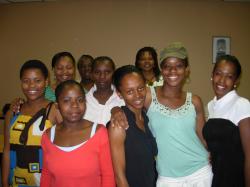 Nine preschool teachers from Chesterville Schools have almost completed their 2-month training course provided by Hlanganani, and sponsored by the Westville Rotary Club. They will be writing their final test and receiving certificates on the 29th of October.
ESTEE LAUDER - Homework room upgrade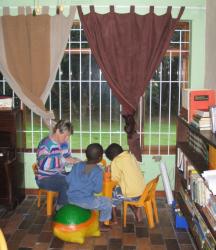 Thanks to the team from Estee Lauder for making such a difference to the homework room at the Childrens Foster Home in Westville. The team painted, fitted new curtains and provided teaching aids, kiddies tables and chairs, a couch, radio and computer!
LEARNATRADE (Learnership opportunity for Chesterville)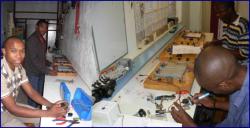 Two youth from Chesterville have been offered a sponsored learnership with Learnatrade. We are most grateful to Learnatrade for this offer, which will positively impact the lives of the two candidates selected from Chesterville.
Learnatrade provides practical skills-based training to learners who will use these skills to gain employment. Learnatrade is an outcomes-based training facility accredited with the electrical SETA (ESETA) which provides training in basic electrical skills, electronic skills and solar power systems. (Learnatrade brochure available below)
The two candidates from Chesterville(Mncedise and Menzi) have made very good progress during the first 2 terms of 2010. The skills they are aquiring will put them in a good position to start their own businesses in 2011. Thanks to the Learnatrade team for providing such an excellent service.