Welcome to www.vukukhanye.org!
Thank you for visiting our website. Vukukhanye is an isiZulu word meaning "arise and shine", and reflects our vision for the upliftment of the underprivileged, poor and marginalised people of South Africa.
Vukukhanye was birthed in 2001 in Durban, KwaZulu Natal, South Africa. We continue to seek to establish relationships and partnerships with those who identify with our vision and objectives. We would love to hear from you; so please contact us if you have any questions or comments.
OVERVIEW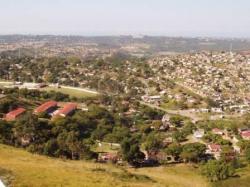 Vukukhanye is a non-profit and public benefit organization, formed in 2001, concerned with thtecare and support of orphans and vulnerable children and vulnerable families particulalrly in the community of Chesterville in Cato Manor (eThekwini). The main services provided by Vukukhanye include the following...
A Children's Foster Home (est.2001) caring for orphans and vulnerable children
The Vukukhanye Educare Centre (est. February 2012) which enrolls 60 children under 6 years of age.
A Bursary Project (est 2008) offering 20 long-term renewable school and tertiary bursaries. Four graduates.
Health and Welfare support services in Chesterville including support of vulnerable and child-headed families through home-visits, school fee provision, stationery and uniforms and counselling and supportive services to Chesterville community members
Support for community based organisations and schools
Projects & Objectives
Vukukhanye's objectives include five project areas; which are briefly described below: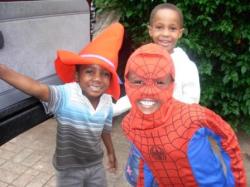 1.
Children's Foster Home
Vukukhanye has been operating a Children's Foster Home since April 2001. This Home provides care for abandoned, abused, neglected, orphaned or homeless children, or any other child in need of immediate care; including those affected or infected by HIV/AIDS. Education of the children while at the Home is a priority and children of school-going age are enrolled in local schools. A stable home environment and associated services (education, nutrition, legal, financial, psychological, health etc.) are provided, to help the children grow up to be healthy, educated, socially well-adjusted adults. It is intended that whenever possible, children be reintegrated into their family/community, or placed with adoptive/foster parents.
2. Early Childhood Development

Vukukhanye Educare Centre
Vukukhanye has established a new educare centre in Chesterville to improve the provision of quality preschool education. The school, which operates from two new prefabricated classrooms and five 2nd hand park homes, started on the 15th of February 2012. Sixty children under 6 years are enrolled, with five staff (1 supervisor, 3 teachers, 1 asistant, 1 cook/cleaner). Developing the staff by equipping them with early childhood education and management skills is a priority. The children receive 2 meals per day, as well as a mid-morning snack.

Help us raise funds by sponsoring a childs monthly fees: R120/month/child will help the school cover costs such as meals, gas, teachers stipends, maintenance and rental.

Preschool Support
Through partnership with local business and preschools, Vukukhanye facilitates support of preschool in Chesterville through the provision of resources, school upgrades and training (such as from Cygnet Pre-Primary).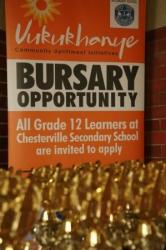 3.
Bursary Project
Vukukhanye started the Bursary project in 2008 in order to help disadvantaged children from Chesterville achieve tertiary qualifications. We are presently supporting eighteen bursary students; 5 at tertiary institutions and 13 at school. We are very proud of our bursars, who are progressing well. The tertiary fields being studied are Biological Sciences, Marketing Management, B.Com, Civil Engineering and Nursing. Thank you to our generous partners, particularly Suncoast (who support 16 bursars and are committed to the selection of 4 new children each year); and Prestige Cleaning Services whose funding is helping Philile complete her 3rd year BSc.
While this project is well supported by the partners mentioned above Vukukhanye is seeking to raise funds for 2 more tertiary students and for tertiary education for the children from the Foster Home.
4. Community Welfare Support & Care Centre
Vukukhanye's community worker conducts home visits and follow up on vulnerable families in Chesterville. Services include social needs assistance, accessing official documentation and grants, support of child-headed families and families in crisis, infant formula, food and school needs, follow-up on cases of child-abuse and material support. Partnership with the Starfish Greathearts Foundation has contributed significantly to the sustainability of these services.