FINANCIAL SUPPORT
Partner with Vukukhanye by contributing financialy. Lump sums or small monthly donations (e.g. of R50-R100) would be greatly appreciated.

To make a secure donation, click on the "Donate Now" button above.




You may also make contributions to Vukukhanye in the following ways:
DEBIT ORDER: Through 'Debitsure' - download, complete and return the debit order authority below
CREDIT CARD: Through 'Debitsure' - download, complete and return the debit order authority below
ELECTRONIC TRANSFER (e.g. internet banking or debit order set up with your bank)
- Bank account details below

INCOME TAX EXEMPTION (Section 18A):
Vukukhanye is a registered Public Benefit Organisation (18/11/13/2073) and all donations are subject to income tax exemption in terms of Section 18a of the Income tax Act (RSA). Donors will be issued with donation (tax) receipts - if you would like to receive a receipt, please complete your name and address on the debit order authority or forward your details via email or post. Thank you.

BEE COMPLIANCE:
Vukukhanyes EME (BBBEE) Verification Certificate can be downloaded from the "EME Certificate" button onthe left of the Home Page (http://www.vukukhanye.org/site/eme)
Bank Account Details
Name of Account: Vukukhanye
Bank: Standard Bank
Branch: Westville
Universal Branch code for all Standard Bank branches: 05-10-01
Account type: Cheque
Account number: 25 254 884 1
Swift code (international transfers): SBZAZAJJ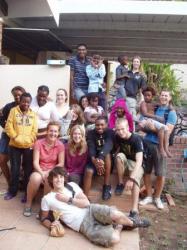 VOLUNTEER

Vukukhanye seeks to operate mainly volunteer-driven projects, through the mobilisation of people with various passions, skills and spheres of influence. The projects listed below are part of a holistic strategy aimed at the continued and complete development of the community of Chesterville. If you identify with the objectives of Vukukhanye, and are interested in getting involved in any of the areas mentioned below, please feel to contact us.


General (all projects) - transport, collection & distribution of donations/supplies, research, resource acquisition, medical and nursing support, counselling, administration, fundraising support.
Orphans & Vulnerable Children - groceries (non perishable foods, cleaning products, toiletries), school expenses (fees, uniforms, daily transport, stationery), sponsor a gardener, maintain the vegetable garden, mentoring, homework support, extra lessons, computer training, hosting & outings, shopping, nursing support, medical & dental support, music lessons and other extra-mural or sporting activities, repairs & maintenance, transport.
HIV/AIDS (prevention, training & palliative care) - volunteer care-givers, school-based HIV education, counselling, medical, dental and nursing support.
Early Childhood Development - expertise & input of preschool teachers, preschool resources, teacher training, repairs & maintenance, stationery (crayons, paint, scissors, glue), collect items for fantasy play (ties, jewellry, handbags, hats, scarves), foam matresses, educational games and toys.
School Partnership & Bursary Projects - work parties for repairs & maintenance, partner with School Governing Body & headmaster for fundraising, mentor a bursar, extra Maths, Science or English lessons, join MySchool to raise money for schools (uKhukhanya Kwelanga, Christopher Nxumalo, HP Ngwenya, Insimbini Primary, Chesterville Secondary, Chesterville Extension Secondary).
Sport For All - sponsor a child to attend (R30/month), assist Coaches (Mon-Fri 1-5pm), donate 2nd hand sports equipment.
Health & Welfare - Non perishanble foods (samp, mielie meal, peanut butter, soya mince, salt, sugar, white kidney beans, sugar beans) required to make up 10 food parcels a month (Roughly R100/month/parcel)
One-Stop Centre - second hand clothes & household items (to be sold at Chesterville Hospice Shop - to fund Satellite Hospice services).