WESTVILLE FOSTER HOME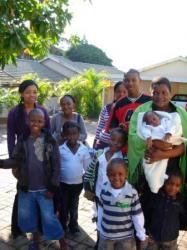 The Westville Children's Foster Home was established in 2002 to provide a stable, supportive environment for abandoned, abused, neglected, orphaned and homeless children including those affected/infected by HIV/AIDS. The home is situated at 7 Bristol Road, Berea West, Westville, KwaZulu-Natal.

The aim of the home is to provide short and long-term care of orphans and vulnerable children (a maximum of 6 children in foster care, presently excluding the biological daughter of the foster mother and a maximum of 2 short-term crisis placements).

Children are cared for by a full-time Foster Mother. Admission of children, as well as supportive reintegration is overseen by registered social workers. Education is a priority and children of school-going age are enrolled in local schools. We aim to provide a stable, loving, supportive family environment; as well as all their basic and developmental needs (nutritional, medical, legal, financial, emotional, psychological, spiritual and educational), to help the children grow up to be healthy, educated, socially well-adjusted adults.


A further aim is to facilitate the transition of children at the Home into permanent care with extended family or foster/adoptive parents and provide follow up support for children and caregivers.

Of the 66 children cared for to date 1 has been adopted, 2 have moved out into independant living, 6 have been fostered, 27 transitioned into alternate care (e.g. Children's Homes) and 21 transitioned into care by family. There are presently 9 children living at the Home.