STAND UP AGAINST POVERTY CAMPAIGN (16 October 2009)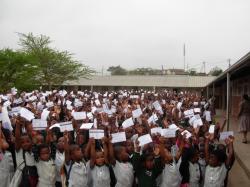 Sport For All, in support of the Stand Up Agaisnt Poverty Campaign, (www.standagainstpoverty.org) is participating in the global initiative running 16-18 October. The Campaign is a worldwide call to show support to end poverty and echieve and exceed the 8 Millennium Development Goals. In Africa, Stand Up provides an opportunity for citizens to show solidarity with millions of poor and excluded groups by demanding that governments become more accountable by improving their governance practices and implementing pro-poor policies.
Sport For All Chesterville played its part by distributing information and presenting to 1000 learners at Insimbini Primary School in Chesterville, at their school assembly on the morning of 16 October. The 8 Millenium Development Goals were briefly explained and the children stood up to demonstrate their support - see photo to right.
Thank you to Insimbini for supporting the Campaign!