French Volunteers'News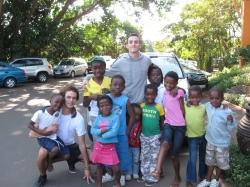 Hi everybody! We are 3 volunteers (Julie, Pierre Luc and Benjamin) from La Rochelle Business School in France.

We arrived one month ago in Chesterville. We have had a lot of experiences which we are describing.
We participated in a meeting for the community of Chesterville. This experience was rewarding because it allowed us to discover the different association with ambitions for Chesterville.
This month we have worked mostly in the Foster Home because children are on holiday. In the mornings the children go to a Holiday Camp and we help MamNjazi in the house. We have helped clean the garden and we organize storage space. In the afternoon it is the time for playing with children: Baseball, charades, puzzles, board games and homework.
We like to share this moment with children because we learn a lot of things thanks to them: Zulu culture, song, dance...
We have accompanied the children on two outings: the first in a school with different games and the other was more cultural with The Natal Philharmonic Orchestra.
To finish for today, this month we did some construction: a step at a crèche; and in Chesterville we destroyed a shack and built another house.
For this moment, we are happy of cordial South African's welcome. And each day is a discovery.
We wait for Friday with impatience to go in the Game Reserve with children.
See you soon for new adventures.